This is truly is the year of many ups and downs. I know for a great many people this year is challenging their faith in humanity. It can be all too easy to turn away and become numb by the seemingly incessant bombardment from a media that showcases violence and suffering. I believe in a great part that this is why people become so separated and fearful of each other, in addition to schedules that are filled to the brim while working to the bone to make ends meet.

    However the reality is that there is still a great many more good people in the world than there are bad. Fortunately the answer, that begins to remove the estrangement we have for each other, is simple and universal.

The answer is kindness.

    I would like to tell you a story of a personal experience of mine.
It was when I just moved into my new place in the Spring of this year. I was grateful to be alive, to be able to hear the birds, to smell the sweet smells of flowers, to feel the pulse of life becoming stronger into Earth Mother. Although at that time, I knew no one here, I wanted to share some of that joy with the people around me.  So I took the time to print a small, springtime greeting introducing myself and those who live with me here in my new home. I placed a tiny bouquet of daisies with each small card and placed them on the doorstep of each of my neighbors, and went on my way, expecting nothing more to come of it.
    What happened next was a tremendous surprise and a lesson that I will never forget! The card and the flowers had made such an impression upon my neighbors that it lifted the feeling within my immediate community for a week.  People who were so normally cloistered from each other, began smiling, looking each other in the eye and greeting each other. Many of these people had not known each other, although they had lived next to each other for many years. Several became friends while seeking out who left the gift. I was grateful for the people who found me out, and now I have new friends that came to me unexpectedly. Many of them shared stories with me about how that little act of kindness lifted their spirits because someone cared and wanted to share joy with them. Quite a few have told me that although the flowers have​ long since faded they kept the tiny little card I made that opened the door amongst us. Strangers had become friends— an act of kindness, no matter how small, has the potential to  brighten the world!

Kindness is a salve to the spirit and heals the soul.  Practice an act of kindness whenever you can. You may never see the results of your acts directly, however, they are like a welcome wind on a beautiful autumn night that moves invisibly amongst us. It spreads goodwill, and creates a bond of fellowship that goes beyond race, color, or creed.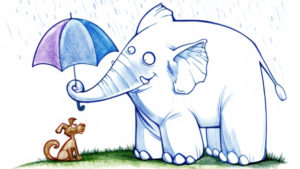 Eagle Skyfire is a Native American shaman, seer, spiritual teacher and ceremonial leader.  Her mastery of these practices allows her to empower people deeply in transforming their lives, and to gain deeper understanding of their soul's purpose. Connect @EagleSkyfire, via Facebook, LinkedIn, or visit www.eagleskyfire.com.
All material written or recorded is the exclusive intellectual property of Eagle Skyfire.