It is said that a soul is always conscious for it is a part of the Great Spirit. The ancient teachings say that in between lifetimes we are called to "sit" next to the Creator who dictates what it is our soul is to learn in a lifetime. Since we are given the gift of free will we are allowed to request whom we would like to share the journey & some of the events in order to have the experiences that we need. This is why souls can be born in a collective. This  karmic "blue print" is what we Native Americans call the "Dreamweave".  Your Dreamweave is more than a blue print that spans & connects your lifetimes. Within it is the personal Divine Contract that you have with the Great Spirit that acts as a specific road map to guide you in this current life.
Typically there is but one Divine contract per incarnation, however a soul can grow & evolve to the point that the original design that a person was born with no longer applies. At such times a person feels as if their current life somehow doesn't "fit", elements of the present & past begin to slip away, & there is a burning need to find one's life purpose.  There begins the thirst for a deeper understanding of oneself, & why life is the way that it is.
       The Sacred Round of Heaven & Earth is the method to be able to go deeply into oneself and connect with the Great Spirit and the Creation in order to answer these questions. It is a Powerful nine month commitment that allows profound personal revelations. The culmination of the Sacred Round of Heaven and Earth ends with your consciously creating your Divine Contract. The oaths taken during the Sacred Round shape not only this life, but your future incarnations as well. You know you are ready to approach the Sacred Round when you feel called to it by your own spirit.
       If you feel called to the Sacred Round of Heaven and Earth, allow me to guide you.  This is a sacred commitment that is not to be taken lightly! I am deeply honored to share this  journey of profound transformation with you.  Classes begin in April at Moonstone and Sage in Malvern, Pa. and at Inner Peace and Wellness Center in Hamburg, Pa . If you have questions about whether you are ready for the Sacred Round of Heaven and Earth contact me directly through my website Facebook, or call me at 215.361.9882  for more information.
It is time to answer the call within you for profound soul work and discover your true life's path. Wanishi.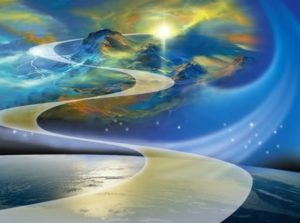 Eagle Skyfire is a Native American shaman, seer, spiritual teacher and ceremonial leader.  Her mastery of these practices allows her to empower people deeply in transforming their lives, and to gain deeper understanding of their soul's purpose. Connect @EagleSkyfire, via Facebook, LinkedIn, or visit www.eagleskyfire.com.
All material written or recorded is the exclusive intellectual property of Eagle Skyfire.